The National Chairman of the All Progressives Congress, (APC) Chief John Odigie Oyegun has called on party members in Kaduna state to work hard to defeat the opposition party in the forth coming local government election in the state, saying that the outcome of Kaduna State local government elections will go a long in determining the success of President Muhammadu Buhari and Governor Nasir El-Rufai.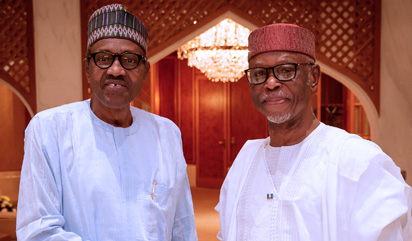 Chief Oyegun states this in Kaduna at the official flag – off of campaigns for the local government elections slated for May 12.
"I heard you talk about Buhari and Nigeria, this election is the first one enroute to February 2019. What you do in this local government election will determine what is going to happen in February 2019, my appeal to you is that if you are working before, work harder because this election must be won.
"The governor made promises during the campaign to be the Governor of this state, he listed five pillars, which he rolled out to make Kaduna Greater again tagged the Restoration programme, he promised to invest in education, healthcare and social welfare.
"The fate of the local government elections will depend on whether you have approved of his performance.
"He also promised to institute a governance programme that is hinged on competent and responsive civil service with zero tolerance for corruption. If all of you agree that he has done well I agreed as the National Chairman that he has indeed done well.
"He also promised to rebuilt, maintain the decaying infrastructure, and he also promised to promote Agriculture , land reforms, and food security. This man is coming from Abuja and he has shown what he can do to build a functioning model city.
"Am here to confirm that Kaduna state, you people have a lucky son as a Governor, and am here to ask for a favour and that is the only way you can show that you are satisfied with what he has done is to ensure that all 23 chairmen of the APC are elected. This is the only thing,
"I Thank the men and women that are joining the APC, when people are joining your party it is a sign that people approve of what you are doing. It is a sign that you approve of what the president is doing and above all it is also a sign that you approve of what the governor is doing. The only way you can make it 4+4 here and in Abuja is the result of your local government elections" . END
Earlier, Governor El-rufai reminded the people that, "The Kaduna local government elections is going to be done with electronic voting the first in this part of the world and I decided that the National Chairman John Odigie Oyegun is going to be part of it his event. So that when history is written of the first electonic voting in this country, they will say Oyegun was there".
Related